Water damage to your home and business property is a very serious problem. Water damage can come from many different sources and can cause a very wide range of issues from bad odors to structural damage and hazardous mold. Repairs can be time consuming and costly if the water damage is serious enough to call a water damage restoration contractor. Water damage is seven times more likely to occur in your home or business than fire damage, and it is also six times more likely to occur to your property than burglary, so it is not uncommon for home and business owners to have to manage at some point. Thankfully, there are several things that you, as a home or business owner, can do to prevent a visit from a water damage restoration contractor.
Water Damage Restoration Tips For Your Business and Home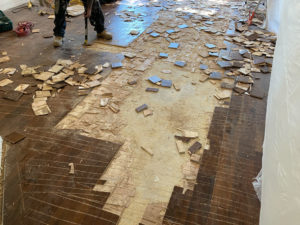 Most water damage losses at your business or home come from malfunctioning appliances, HVAC systems, and plumbing problems. Stormwater and flooding damage is also a possibility. You can prevent a good deal of water damage from these liabilities by assessing what in your business property could be a risk. Here are some tips to mitigate potential water damage:
Properly inspect and maintain HVAC systems. Make sure you have your HVAC specialists inspect your system on a regular schedule and keep it maintained. Spending a little time and money upfront can save you a lot of headaches.
Keep roof and rain gutters cleared of debris and inspect for damage. If you live in an area with snow and ice in the winter be sure to clear it off the roof regularly. This maintains the water proof integrity of the structure. Keeping leaves, branches, and other debris out of the rain gutters ensures that water flows where it should, out of the end of the gutters and not onto exterior walls and windows.
Keep any holes or cracks on exterior surfaces sealed. Keeping cracks on the foundation and exterior walls sealed and waterproofed will keep water and ice from making cracks bigger. It also keeps freezing weather conditions away from pipes. Any exposed pipes should be well insulated from cold temperature as well.
Keep the temperature of your business or home warm enough to prevent pipes from freezing and breaking. It can be tempting to save on energy costs by lowering the temperature of your business property when no one is there, such as on weekends. Just never set it lower than 50 degrees, to ensure water does not freeze and expand in pipes.
Inspect appliances for leaks and weak hoses. Making sure a small problem does not get bigger takes only a little bit of time, routinely checking behind and around appliances like refrigerators and dishwashers for leaks and making sure connecting hoses are secure.
These preventative measures can keep you from having to call a water damage restoration contractor to your place of business.
When You Need To Call A Water Damage Restoration Contractor
If, despite your best precautions, your home or business does sustain water damage, you need to take steps immediately to keep it at a minimum. As soon as you notice the water damage, disconnect all electronics right away to eliminate risk of shock. Then check for any mold beginning to grow. Mold can be a health hazard and needs to be stopped as soon as possible. Next, dry out the water..use fans and fresh air to get the water dried out fast. Then you may need to replace any damaged or warped materials like drywall, wood, flooring etc. If this is work that you are unable to do on your own or if the job is too big, call a water damage restoration contractor for a quote or with any questions or concerns.